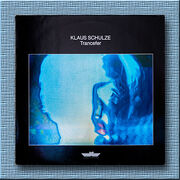 TRANCEFER
is the fourteenth solo album by
Klaus Schulze
, originally released on 1 October 1981. The title is a word play on "trance" and "transfer".
Tracks
Details
Recording Date: 1981
Recording site(s): Hambühren
Producer(s): Klaus Schulze
Composer(s): Klaus Schulze
Musician(s): Klaus Schulze, Wolfgang Tiepold (cello), Michael Shrieve (percussion)
Notes
TRANCEFER was Schulze's first album on his own label INNOVATIVE COMMUNICATION (IC). With the original total running time of 37:23, it was the shortest Schulze album until the 2006 reissue doubled its running time.
While producing TRANCEFER, three different versions were tested: the "normal" 33 rpm version, a 45 rpm version (common on early IC-albums for sound and promotional reasons) and a halfspeed-cut". The differences in sound quality were minor, so the normal 33 rpm version got in production. In addition, 300 copies each of the two test LPs were manufactured and given to friends and journalists. For unknown reasons there were slightly different mixes used for those test LPs. Two of these alternative versions were chosen as bonus tracks on the 2006 reissue of TRANCEFER.
Silent Running maybe inspired by the science fiction movie "Silent Running" (1972).
The cover design is by Schulze, Claus Cordes and kdm. In 1985, GRAMAVISION in the USA reissued parts of Schulze's back catalogue with new covers showing printed circuit boards superimposed over photographs of landscapes.
In 2006 TRANCEFER was the twenty-third Schulze album reissued by REVISTED RECORDS as part of a series of Schulze album reissues.
Some music from TRANCEFER was used in:
the French science tv magazine "Futur's" (1989)
Equipment
G.D.S. computer synthesizer, electronics, persussion, cello
Releases
Germany
1981 INNOVATIVE COMMUNICATION KS 80 014 LP
1981 INNOVATIVE COMMUNICATION KS 81 014 LP 45rpm version [limited 300]
1981 INNOVATIVE COMMUNICATION KS 82 014 LP halfspeed-cut [limited 300]
1981 INNOVATIVE COMMUNICATION KS 80014 LP
1984 BRAIN 823 605-1 (black Brain) LP
1984 BRAIN 823 605-2 CD
2006 SPV/REVISTED RECORDS REV 071 CD Digipak
France
1981 EMI PATHÉ 20 068-64636 LP
UK
1981 DJM RECORDS DJF 20579 LP
1994 TKO MAGNUM THUNDERBOLT CDTB 146 CD
Italy
1980 BASE RECORDS KS 80 014 LP
Benelux
1981 ROADRUNNER RR 9993 LP
US
1984 GRAMAVISON 18-7025-1 LP
1996 MAGNUM AMERICA MACD 048 CD
Community content is available under
CC-BY-SA
unless otherwise noted.