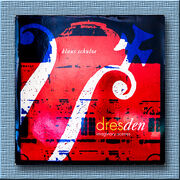 THE DRESDEN PERFORMANCE
is the twenty-second solo album by
Klaus Schulze
, originally released in October 1990. It is Schulzes third live album and was recorded in the German town Dresden on 05 August 1989.
Tracks
CD 1
Dresden One (44:06)
Dresden Three (10:28)
Dresden Five (18:23)
CD 2
Dresden Two (47:09)
Dresden Four (22:01)
Details
Recording Date: 05 August 1989, between March and May 1990 (studio tracks)
Recording site(s): Dresden, Hambühren (studio tracks)
Producer(s): Klaus Schulze
Composer(s): Klaus Schulze
Musician(s): Klaus Schulze
Notes
In early 1989 Klaus Schulze was asked to perform an open air concert in Dresden (in what was then still East Germany) during the summer, so the concert was arranged for August 5th 1989 and five pieces were prepared for performance. Due to last minute restrictions by the police only the main pieces (Dresden One and Dresden Two) were performed live to the 6,800 strong audience, the other pieces were recorded later in the studio. As all five tracks were prepared for the concert, the decision was made to include them for the release.
To fit the 5 tracks on 2 CDs the numbering is somewhat confusing.
The LP version has the different title DRESDEN - IMAGINARY SCENES, having a slightly different cover and consisting of only the studio tracks.
The cover design is by Icon London, Los Angeles.
THE DRESDEN PERFORMANCE is one of the few Schulze albums, not reissued by REVISTED RECORDS due to copyrights.
Equipment
Electronics
Releases
Germany
1990 VIRGIN VENTURE 354 107 2CD
1990 VIRGIN VENTURE 304 107 LP [titled DRESDEN - IMAGINARY SCENES]
UK
1990 VIRGIN VENTURE CDVED 903 2CD
1990 VIRGIN VENTURE VE 903 LP [titled DRESDEN - IMAGINARY SCENES]
USA
Japan
1990 VIRGIN VENTURE VJCP-36013 2CD
Community content is available under
CC-BY-SA
unless otherwise noted.