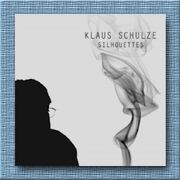 SILHOUETTES
is the forty-third album by Klaus Schulze, released on May 25th 2018.
Tracks
Details
Recording Date: summer 2017
Recording site(s): Hambühren
Producer(s): Tom Dams
Composer(s): Klaus Schulze with Tom Dams
Musician(s): Klaus Schulze
Notes
In 2015 SPV announced this album to be released in March, later for late 2015. Then the publisher stated, the whole album was a hoax of some internet crook...but the people at SPV label told me otherwise. In fact the album was only postponed until 2018. The first track list appearing online was
but that could be made up.
Cover artwork is by Thomas Ewerhard, photos by Georg Stettner and Christian Piednoir.
Equipment
Electronics
Releases
Germany
2018 OBLIVION SPV 267202 CD Digipack
2018 OBLIVION SPV 2LP + CD Digipack
2018 OBLIVION SPV 267209 2LP + CD Digipack Box Set (coloured vinyl + picture)
Community content is available under
CC-BY-SA
unless otherwise noted.