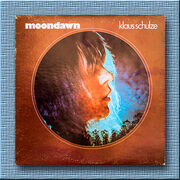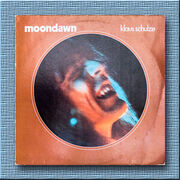 TIMEWIND (1975)
<                                                         >
BODY LOVE (1977)
MOONDAWN is the sixth solo album by Klaus Schulze, originally released on 16 April 1976.
Tracks
MOONDAWN - THE ORIGINAL MASTER (1995 release)
Floating (27:15)
Mindphaser (25:22)
Supplement (25:22) Bonus Track
MOONDAWN (2005 reissue)
Floating (27:15)
Mindphaser (25:22)
Floating Sequence (21:11) Bonus Track
Details
Recording Date: January 1976
Recording site(s): Frankfurt/Main, Studio Panne-Paulsen
Recording engineer(s): Klaus Schulze
Producer(s): Klaus Schulze
Composer(s): Klaus Schulze
Musician(s): Klaus Schulze, Harald Grosskopf (drums)
Notes
The first CD versions from BRAIN and THUNDERBOLT/MAGNUM were made from reworked masters - in the early 90s, Schulze put mellotron and some reverb onto it, also he made the tracks a bit shorter. The original version - apart from the old LP - is on the MANIKIN version from 1995, and the REVISTED RECORDS version from 2005.
At the beginning of Floating you can hear "The Lord's Prayer" spoken by an Arabic reciter.
There are several different covers with Schulze portraits in different positions, with and without the circle around it. The cover photos are from Guido Harari.
The 1995 MANIKIN version bonus track Supplement is a variation of Mindphaser and from the same recording session.
In 2005 MOONDAWN was the thirteenth Schulze album reissued by REVISTED RECORDS as part of a series of Schulze album reissues. The reissue bonus track Floating Sequence is from the same recording session and in fact a variation of Floating.
Some music from MOONDAWN was used in the Suisse film "Forscher des Vertikalen - Auguste Piccard" and in a film of Arts Channel called "The Moguln" (1989).
Equipment
Moog, ARP 2600, ARP Odyssey, EMS Synthi-A, Farfisa Syntorchestra, Crumar keyboards, Sequenzer Synthanorma 3-12, drumkit
Releases
Germany
1976 BRAIN 1088 (green Brain) LP
1976 BRAIN 0001088 (black Brain) LP
1976 BRAIN 1088 (0649) (orange Brain) LP
1976 BRAIN 000.1088 (orange Brain) LP
1976 BRAIN 000 1088 (orange Brain) LP
1991 BRAIN 841 353-2 CD
1995 MANIKIN MRCD 7009 [The Original Master] CD
2005 SPV/REVISTED RECORDS REV 031 CD Digipak
France
1976 ISADORA / RCA ISA 9001 LP
1976 ISADORA / RCA ISAK 9001 Cassette
Netherlands
1976 ARIOLA 27 556 ET LP
1976 ARIOLA 27 556-I LP
Spain
Great Britain
1991 THUNDERBOLT / MAGNUM CDTB 093 CD
USA
Canada
1979 BOMB RECORDS BOMB 111 LP
Japan
1978 TAICHIKU / BRAIN SUX-120-EB (yellow Brain) LP
1981 BRAIN 22S-38 LP
1995 BRAIN POCP-2380 CD
2007 ARCANGELO ARC-7271 CD Papersleeve
Korea
? POLYGRAM / BRAIN SEL-RG 1429
Community content is available under
CC-BY-SA
unless otherwise noted.