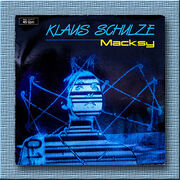 MACKSY
is a 12 inch maxi single by
Klaus Schulze
, originally released in 1985. The title is an obvious pun to "maxi (single)".
Tracks
Macksy (07:50)
Pain (09:36)
Details
Recording Date: March 1985, 1983 (B-side)
Recording site(s): Hambühren
Producer(s): Klaus Schulze
Composer(s): Klaus Schulze
Musician(s): Klaus Schulze, Ulli Schober (percussion)
Notes
Before working on INTER*FACE (1985) Schulze was asked by the record company to produce a maxi single "for the discos".
First re-release of Macksy on CD was in JUBILEE EDITION (1997) as Maxxi.
A longer version of Macksy including lyrics by Rainer Bloss was released on the 2006 reissue of INTER*FACE, named Nichtarische Arie.
The cover design is by Claus Cordes.
Equipment
Electronics, percussion
Releases
Germany
1985 BRAIN 881 812-1 12 inch