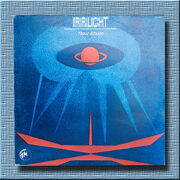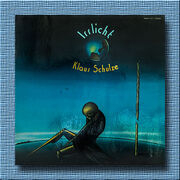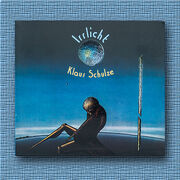 >
CYBORG (1973)
IRRLICHT is the first solo album by Klaus Schulze, originally released in August 1972. The German title translates "Will-o'-the-wisp".
Tracks
Details
Recording Date: April 1972
Recording site(s): Berlin
Recording engineer(s): Klaus Schulze
Producer(s): Klaus Schulze
Composer(s): Klaus Schulze
Musician(s): Klaus Schulze, Colloquium Musica Orchestra (Berlin)
Notes
The album's complete title is: Irrlicht: Quadrophonische Symphonie für Orchester und E-Maschinen (German: Will-o'-the-wisp: Quadraphonic Symphony for Orchestra and Electronic Machines)
Recorded in April 1972 without any synthesizer, Schulze mainly used a broken and modified Teisco electric organ, a processed recording of a classical orchestra rehearsal, and a damaged guitar amplifier to filter and alter sounds that he mixed on tape into a three-movement symphony. At the time of recording, the members of the orchestra asked Schulze not to mention their name, for they did not want to be connected to this kind of music.
Ebene and Gewitter are one continuous track. On some CD issues Gewitter is no separate track.
The track Exil sils Maria is a reversed version. While working on it, Schulze accidentially listened to it backwards and liked it so much, he used it for recording.
The original blue/red cover is made by Klaus Schulze, later issues have a picture of the painting "All-Eingang" by Swiss artist Urs Amann.
In 2006 it was the sixteenth Schulze album reissued by REVISTED RECORDS as part of a series of Schulze album reissues. The bonus track is a studio recording from 1976.
IRRLICHT was dedicated to Dietlind von Törne.
Equipment
Teisco organ, guitar, percussion, "E-machines", zither
Releases
Germany
1972 OHR 556.022 LP
1975 BRAIN 1077 (green Brain) LP
1977 BRAIN 0001 077 (black Brain) LP
1977 BRAIN 1077 (orange Brain) LP
1986 BRAIN 833.127-2 CD
2006 SPV/REVISTED RECORDS REV 046 CD Digipak
France
1972 CLEMENTINE CLE 33005 LP
1976 ISADORA ISA 9004 LP, Cassette
1986 AVI 2001 CD
1991 FNAC 662012 CD
1995 SPALAX 14921 CD
1997 SPALAX 14121 LP
Italy
Netherlands
Great Britain
1991 THUNDERBOLT CDTB 133 CD
1999 THUNDERBOLT CDTBD 005 (with DUNE) 2CD set
USA
Japan
1979 TEICHIKU SUX-157-EB LP
1981 BRAIN 22-S-37 LP
1995 BRAIN POPC-2401 CD
2007 ARCANGELO ARC 7263 (MTD 07009) CD Papersleeve
Korea
? POLYGRAM BRAIN SEL-RG 2013
Russia
2002 LANDY STAR LSM-2340/02 CD
Community content is available under
CC-BY-SA
unless otherwise noted.