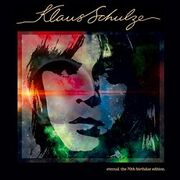 ETERNAL - THE 70TH BIRTHDAY EDITION
is the forty-second album by
Klaus Schulze
, originally released on 28 August 2017. As the title says it is released on the occasion of Klaus Schulze's 70th birthday on 04 August 2017.
Tracks
CD 1
Rhodes Romance (47:41)
Minority Report (13:33)
Mongolia (18:23)
CD 2
Schrittmacher (13:35)
Ion/Andromeda (16:07)
Andromeda - The Grand Trance (41:09)
Details
Recording Date: 2003 - 2007
Recording site(s): Hambühren
Producer(s): Klaus Schulze
Composer(s): Klaus Schulze
Musician(s): Klaus Schulze
Notes
The first 39 minutes of Rhodes Romance are the same as The Rhodes Violin on the bonus CD of SHADOWLANDS (2013); for this long track after 39 min. a violin was added.
Schrittmacher was previously released on sampler SCHRITTMACHER - TASTY TRACKS VOL. 1 (2004).
Ion/Andromeda and Andromeda - The Grand Trance were previously released on promo CD ION (2004).
Equipment
Electronics
Releases
Germany
Community content is available under
CC-BY-SA
unless otherwise noted.