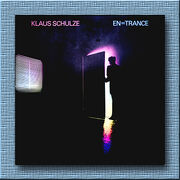 EN=TRANCE
is the twentieth solo album by
Klaus Schulze
, originally released on 06 or 07 April 1988. The title contains a play on words, for "en trance" is French for being "in trance".
Tracks
Details
Recording Date: early autumn 1987, 1975 (bonus)
Recording site(s): Hambühren
Producer(s): Klaus Schulze, kdm
Composer(s): Klaus Schulze
Musician(s): Klaus Schulze
Notes
α-Numerique is pronounced "alpha numeric".
Fm Delight was recorded in one go during the night of Schulze's 40th birthday.
The cover design is by Jacques Sehy.
In 2005 EN=TRANCE was the seventh Schulze album reissued by REVISTED RECORDS as part of a series of Schulze album reissues. The reissue bonus track Elvish Sequencer is from 1975.
Equipment
Keyboards and electronics
Releases
Germany
1988 BRAIN 835 158-1 2LP
1988 BRAIN 835 158-2 CD
2005 SPV/REVISTED RECORDS REV 007 CD Digipak
UK
1988 THUNDERBOLT THBL 2.061 2LP
1988 THUNDERBOLT CDTB 2.061 CD
1994 THUNDERBOLT / MAGNUM CDTB 061 CD
US
? MAGNUM AMERICA MACD 046 CD
Russia
1997 CD MEDIA 203697 CD unofficial
2002 LANDY STAR MUSIC LSM-2350/02 CD unofficial