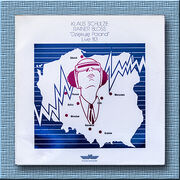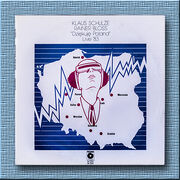 DZIEKUJE POLAND
is the sixteenth solo album by
Klaus Schulze
, originally released in autumn 1983. The Polish title translates "Thank you Poland". It is Schulzes second live album and was recorded on concerts in Poland in July 1983.
Tracks
CD 1
Katowice (Iris) (26:22)
Warsaw (Halina) (24:16)
The Midas Hip Hop Touch (25:15) Bonus Track
CD 2
Details
Recording Date: July 1983
Recording site(s): various Polish concert venues
Producer(s): Klaus Schulze
Composer(s): Klaus Schulze
Musician(s): Klaus Schulze, Rainer Bloss (keyboards)
Notes
The complete title is "Dziękuję Poland" Live '83. Most of the track titles are names of Polish towns, but it is unlikely, that each track stems from that exact town. Just Dzien Dobry! is definately recorded in Gdansk.
Katowice (Iris) is essentially a live version of Spielglocken. Lodz (Janina) is in fact a live version of Ludwig II. Von Bayern, from "X." (1978).
On the Polish issue the titles are slightly different, using Polish orthography and spelling (i.e. Warszawa  )  .
The cover design is by Steer Design and Claus Cordes.
In 2006 DZIEKUJE POLAND was the seventeenth Schulze album reissued by REVISTED RECORDS as part of a series of Schulze album reissues. The bonus track Dzien Dobry! was recorded on the last concert of the tour in Gdansk, the other bonus The Midas Hip Hop Touch is a studio recording from the same era. The 2006 reissue is the only release of DZIEKUJE POLAND going under the name of Klaus Schulze alone - all former releases were by Klaus Schulze & Rainer Bloss. Also the track order was changed to include the longer bonus track, and the additional female names behind the track title were left out.
Some music from DZIEKUJE POLAND was used in:
the Polish tv play "Sketches from the Man without Qualities"
the German underground videos "Streng verboten" and "Fast gestattet"
a French tv documentary about child abuse (2004)
Equipment
Electronics, guitar, keyboards, Moog, Fairlight
Releases
Germany
1983 INNOVATIVE COMMUNICATION KS 80.040/41 2LP
1984 BRAIN 817 620-2 2CD
1984 BRAIN 817 621-1 2LP
1984 BRAIN LP817620-1ME 2LP
2006 SPV/REVISTED RECORDS REV 047 2CD Digipak
France
1983 POLYDOR 817 620-1 2LP
UK
1994 TKO MAGNUM THUNDERBOLT CDTB 504 2CD
Italy
1983 BASE RECORDS KS 80.040/41 2LP
Poland
1985 POLSKI NAGRANIA MUZA SX 2259, SX 2260 2LP
USA
Community content is available under
CC-BY-SA
unless otherwise noted.