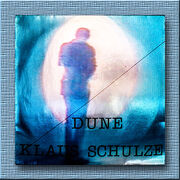 DUNE
is the eleventh solo album by
Klaus Schulze
, originally released on 27 August 1979. The title refers to the sci-fi novel "Dune" by Frank Herbert.
Tracks
Dune (30:28)
Shadows Of Ignorance (26:22)
Le Mans (23:03) Bonus Track
Details
Recording Date: April/May 1979
Recording site(s): Hambühren
Producer(s): Klaus Schulze
Composer(s): Klaus Schulze
Musician(s): Klaus Schulze, Wolfgang Tiepold (cello), Arthur Brown (vocal)
Notes
Only on the 2005 reissue you can hear the full version (30:28) of the track Dune, all older releases used a shorter version (30:06 or 29:52).
The working title for Shadows Of Ignorance was "Arrakis", like the name of the desert planet in the novel "Dune".
The cover photograph was taken by Schulze himself, who arranged black letters on a television screen and took a snapshot during a scene of the Soviet-era science fiction film "Solaris". In 1985, GRAMAVISION in the USA reissued parts of Schulze's back catalogue with new covers showing printed circuit boards superimposed over photographs of landscapes.
In 2005 DUNE was the tenth Schulze album reissued by REVISTED RECORDS as part of a series of Schulze album reissues. The reissue bonus track Le Mans was recorded live on 10 November 1979 in the French town Le Mans.
Some music from "X." was used in:
the New Zealand thriller "Next of Kin" (1982)
Equipment
Electronics, cello
Releases
Germany
1979 BRAIN 660.050 LP
1979 BRAIN 0060.225 LP
1979 BRAIN / BERTELSMANN 660.050 (orange Brain) LP
1988 BRAIN 811 842-2 CD
2005 SPV/REVISTED RECORDS REV 016 CD Digipak
France
1979 EMI PATHÉ 2C 070 63341 LP
Netherlands
Great Britain
1992 THUNDERBOLT CDTB 1451 CD
Italy
1979 RICORDI SMIR 3501 LP
USA
1985 GRAMAVISION 18-7022-1 LP
1996 MAGNUM MACD 045 CD
Japan
1995 BRAIN POCP-2384 CD
2008 ARCANGELO ARC-7278 CD papersleeve
Russia
2002 LANDY STAR LSM-1158/02 CD unofficial
Community content is available under
CC-BY-SA
unless otherwise noted.