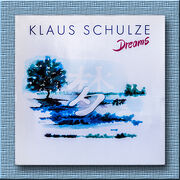 DREAMS
is the nineteenth solo album by
Klaus Schulze
, originally released on 04 November 1986.
Tracks
Details
Recording Date: June/July 1986, 2003 (bonus)
Recording site(s): Hambühren
Producer(s): Klaus Schulze
Composer(s): Klaus Schulze
Musician(s): Klaus Schulze, Andreas Grosser (piano, keyboards), Nunu Isa (guitar), Ulli Schober (percussion), Harald Asmussen (bass), Ian Wilkinson (vocals)
Notes
Working title for DREAMS was "Klaustrophony", but the record company wanted a more "new age" look and title. The Chinese character on the front cover really has the meaning "dream".
The track Flexible is only on CD releases.
The cover design is by record company METRONOME.
In 2005 DREAMS was the third Schulze album reissued by REVISTED RECORDS as part of a series of Schulze album reissues. For this re-release Schulze cross-faded all tracks. The reissue bonus track Constellation Andromeda was previously released early 2003 in Hambühren as a limited promo CD ANDROMEDA (2003).
Equipment
Electronics, percussion, guitar, bass, Alesis synthesizer (bonus)
Releases
Germany
1986 BRAIN 831 206-1 LP
1986 BRAIN 831 206-2 CD
2005 SPV/REVISTED RECORDS REV 003 CD Digipak
France
1986 POLYDOR / BRAIN 831 206-1 LP
Netherlands
1986 POLYDOR / BRAIN 831.206-1 LP
UK
1986 THUNDERBOLT THBL 039 LP
1986 THUNDERBOLT CDTB 039 CD [without Flexible]
US
1996 MAGNUM AMERICA MACD 069 CD
Russia
? PRIVATE AREA SV 363 CD unofficial
Community content is available under
CC-BY-SA
unless otherwise noted.