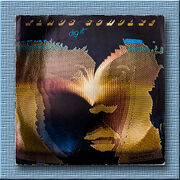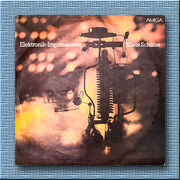 DIG IT is the thirteenth solo album by Klaus Schulze, originally released on 31 October 1980. The title is a word play on "digit(al)".
Tracks
Details
Recording Date: May to September 1980
Recording site(s): Hambühren
Producer(s): Klaus Schulze
Composer(s): Klaus Schulze
Musician(s): Klaus Schulze, Fred Severloh (drums), Thomas "Tommy" Betzler (drums)
Notes
DIG IT is Schulze's first fully digital recording.
On Death Of An Analogue and Synthasy you can hear Schulze "sing" via a vocoder.
The bass and drum on Weird Caravan stems from a tape loop recorded by the band Ideal, which were produced by Schulzes IC label. The same tape loop was used for their song Telephone.
The cover is by Klaus Schulze, Claus Cordes and Michael Weisser. In 1982 the East German AMIGA Label reissued DIG IT under the name ELEKTRONIK-IMPRESSIONEN with complete different cover art by Gerd Fortagne.
In 2005 DIG IT was the sixth Schulze album reissued by REVISTED RECORDS as part of a series of Schulze album reissues. The reissue bonus track Esoteric Goody is from the same recording sessions. The additional bonus DVD (62:22) contains Klaus Schulze's Stahlsinfonie concert at "ars electronica 1980" in Linz, Austria. It was filmed by the Austrian Broadcasting Corporation on 8 September 1980. Guest musician on this event was Thomas "Tommy" Betzler on drums and percussion.
Equipment
G.D.S. computer synthesizer, electronics, vocoder, drumkit
Releases
Germany
1980 BRAIN 0060.353 (black Brain) LP
1980 BRAIN 0060.353 (orange Brain) LP
1982 AMIGA (East Germany) 8 55 941 LP [titled ELEKTRONIK-IMPRESSIONEN]
1984 BRAIN 811 632-2 CD
2005 SPV/REVISTED RECORDS REV 006 CD+DVD Digipak
France
1980 EMI PATHÉ 2C 070 64212 LP
UK
1994 TKO MAGNUM CDTB 144 CD
Italy
1980 RICORDI SMIR 3500 LP
Netherlands
US
1996 MAGNUM AMERICA MACD 064 CD