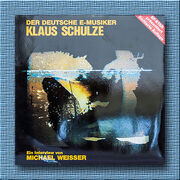 DER DEUTSCHE E-MUSIKER KLAUS SCHULZE
is an interview LP with music from
Klaus Schulze
.
Tracks
Details
Recording Date: 08 March 1980
Recording site(s): Winsen
Composer(s): Klaus Schulze
Musician(s): Klaus Schulze
Interviewer: Michael Weisser
Notes
This strange LP was made without Schulzes knowledge or permission. He was said to be interviewed for a German radio station (which was not true). Michael Weisser tried to promote his SciFi-writing attempts by using Schulzes name and music, therefore the strange introduction and questions.
Music used:
Equipment
Electronics
Releases
Germany
1982 VERLAG INNOVATION DESIGN LP
1995 DI 001 CD [named DAS INTERVIEW]