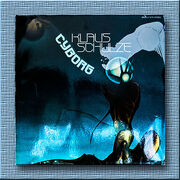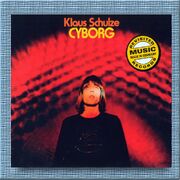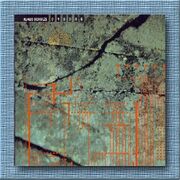 IRRLICHT (1972)
<                                                        >
BLACKDANCE (1974)
CYBORG is the second solo album by Klaus Schulze, originally released in October 1973.
Tracks
CD 1
Synphära (22:49)
Conphära (25:52)
Chromengel (23:49)
CD 2
Neuronengesang (24:57)
But Beautiful (50:45) Bonus Track
Details
Recording Date: February to July 1973
Recording site(s): Berlin
Producer(s): Klaus Schulze
Composer(s): Klaus Schulze
Musician(s): Klaus Schulze, Colloquium Musica Orchestra (Berlin)
Notes
Inspiration for the album titel was a book by SF-author Frank Herbert.
On some french issues, the order of the tracks were exchanged.
The original red cover is from Marcel Fugère (photo) and Peter Greitner, later issues use a picture of the painting "Der bewusste Tiefschlaf" by Suisse artist Urs Amann. In 1985, GRAMAVISION in the USA reissued parts of Schulze's back catalogue with new covers showing printed circuit boards superimposed over photographs of landscapes.
In 2006 it was the nineteenth Schulze album reissued by REVISTED RECORDS as part of a series of Schulze album reissues. The bonus track was recorded during a concert in Brussels' "St. Michael" cathedral on October 17th, 1977.
CYBORG was dedicated to Rita Schulze.
Equipment
Teisco organ, VCS3 synthesizer, percussion
Releases
Germany
1973 OHR KOSMISCHE MUSIK KM 2/58.005 2LP
1973 BRAIN 2/1078 0001.078-2 2LP
1975 BRAIN 2/1078 (green Brain) 2LP
1977 BRAIN 0001.078-2 (orange Brain) 2LP
1977 BRAIN 2/1078 0001.078-2 (black Brain) 2LP
2006 SPV/REVISTED RECORDS REV 058 2CD Digipak
France
1973 CLEMENTINE CLE 33001 2LP
1976 ISADORA ISA 9005/6 2LP
1986 AVI 2002 2CD
1991 FNAC 662011 2CD
1995 SPALAX 14922 CD
Italy
Netherlands
1976 ARIOLA 27 581 XBT 2LP
USA
? GRAMAVISION 18-7020-1 2LP
Japan
1978 TEICHIKU / BRAIN UPS-670~1-EB 2LP
2007 ARCANGELO ARC-7264/65 2CD Papersleeve