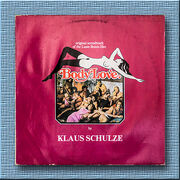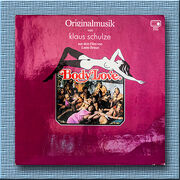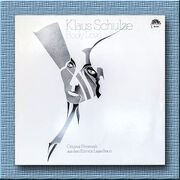 MOONDAWN (1976)
<                                                         >
MIRAGE (1977)
BODY LOVE is the seventh solo album by Klaus Schulze, originally released in February 1977. It is the original soundtrack to the porn movie "Body Love" (1977) by Lasse Braun (director).
Tracks
Details
Recording Date: End of 1976
Recording site(s): Frankfurt/Main, Studio Panne-Paulsen and Bochum
Recording engineer(s): Klaus Schulze
Producer(s): Klaus Schulze
Composer(s): Klaus Schulze
Musician(s): Klaus Schulze, Harald Grosskopf (drums)
Notes
When Schulze got the offer to produce the score for a porn movie, he rejected at first, but as he met Lasse Braun and saw the film, he accepted. In fact Lasse Braun had played older albums from Schulze while shooting, so the rhythm was perfect.
All tracks including the 2005 reissue bonus track were used in the movie, even more music by Schulze can be found there, which did not make it on the soundtrack. Other non-Schulze music used in the film was the title song "Body Love" from Jimmy Reeves and additional instrumental music by a certain Henry Mann (Ray Scott in other sources).
The original cover shows a still from the movie, photography by Etorre Castellano. Later issues had the white drawings from Charles Mikael as cover art.
In 2005 BODY LOVE was the ninth Schulze album reissued by REVISTED RECORDS as part of a series of Schulze album reissues. The reissue bonus track Lasse Braun is from the same recording session.
Equipment
Electronics, drumkit
Releases
Germany
1977 BRAIN 0060.047 (black Brain, pink cover) LP
1977 METRONOME 0060.047 LP
1977 METRONOME 60.047, 0701.572 LP
1977 METRONOME 60.047, 0702.419 LP
1977 BRAIN 0060.047 (black Brain, white cover) LP
? BRAIN 60.047 (orange Brain) LP
1984 BRAIN 813 658-2 CD
2005 SPV/REVISTED RECORDS REV 015 CD Digipak
France
1980 PATHÉ MARCONI EMI 2C 068 63533 LP
Netherlands
1977 ARIOLA 28 522 ET LP
1977 BRAIN 56601 XT Cassette
Great Britain
1991 THUNDERBOLT / MAGNUM CDTB 123 CD
USA
? AMERICAN GRAMAPHONE 813 658-2
? MAGNUM MACD 065 CD
Japan
2007 ARCANGELO ARC-7272 CD Papersleeve
Korea
? POLYGRAM / BRAIN SEL-RG 1175
Russia
2005 IBERICA LOGOS CD unofficial
? FIRST TOWN FTCD-5569 [both BODY LOVE albums] 2CD unofficial