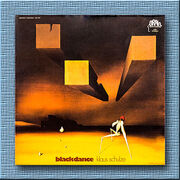 CYBORG (1973)
<                                               >
PICTURE MUSIC (1975)
BLACKDANCE is the third solo album by Klaus Schulze, originally released in summer 1974.
Tracks
Details
Recording Date: May 1974
Recording site(s): Berlin
Recording engineer(s): Klaus Schulze
Producer(s): Klaus Schulze
Composer(s): Klaus Schulze
Musician(s): Klaus Schulze, Ernst Walter Siemon (voc)
Notes
For the first time Schulze uses "real" synthesizers and a singer. Voices of Syn features Ernst Walter Siemon on vocals. Siemon is an operatic singer, radio host and voice actor.
Due to packaging and print errors on later releases, BLACKDANCE was considered Schulze's fourth album for decades, until Klaus D. Müller, Schulze's biographer and publicity manager, discovered from searching through his personal diaries that PICTURE MUSIC (1975), thought to be the third album, was recorded after BLACKDANCE. Despite this, the reissue labels BLACKDANCE as Schulze's fourth album.
Some music from BLACKDANCE is used in the film "Bruce Lee - The Man, The Myth, The Legend".
The cover artwork is from Suisse artist Urs Amann.
In 2007 it was the twentyfifth Schulze album reissued by REVISTED RECORDS as part of a series of Schulze album reissues. The tape box, in which the two bonus tracks were discovered, give the information "Manor, March 1976", but Schulze was only in 1975 in the Manor studios, producing the Far East Family Band, so their exact recording date is uncertain.
Equipment
Synthesizer, Teisco organ, piano, percussion, 12-string acoustic guitar
Releases
Germany
1974 BRAIN 1051 (green Brain) LP
1981 BRAIN 0060.406 (black Brain) LP
? BRAIN 0001.051 (orange Brain) LP
? BRAIN 1051 (orange Brain) LP
? BRAIN 833 129-2 CD
2007 SPV/REVISTED RECORDS REV 074 CD Digipak
France
1974 VIRGIN XBLY 840 045 LP
1974 VIRGIN 200611 LP
1974 VIRGIN 840 045 LP
1974 VIRGIN 2933 726 LP
1980 VIRGIN 400611 Cassette
Italy
1974 VIRGIN DISCHI OVED 23 LP
? VIRGIN ORIZZONTE ORL 8176 LP
Netherlands
Great Britain
1974 CAROLINE CA 2003 LP
1976 CAROLINE CA 2003 LP
1984 VIRGIN OVED 23 LP
1988 VIRGIN CDCA 2003 CD
USA
Japan
1982 VIRGIN VIP-4173 LP
1991 VIRGIN VJCP-23039 CD
2007 ARCANGELO ARC-7266 CD Papersleeve
Australia
1974 FESTIVAL RECORDS SMX 45109 LP
Community content is available under
CC-BY-SA
unless otherwise noted.