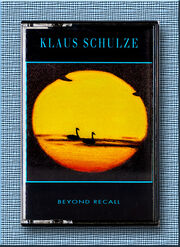 BEYOND RECALL
is the twenty-third solo album by
Klaus Schulze
, originally released on 24 June 1991.
Tracks
Details
Recording Date: August/September 1990
Recording site(s): Hambühren
Producer(s): Klaus Schulze
Composer(s): Klaus Schulze
Musician(s): Klaus Schulze
Notes
The track Gringo Nero was not featured on the LP issue, due to lack of space.
Working title for Airlights was "Eskimono".
The cover design is by Peetie Unglaub.
BEYOND RECALL is one of the few Schulze albums, not reissued by REVISTED RECORDS due to copyrights.
Equipment
Electronics
Releases
Germany
1991 VIRGIN 211 823 LP
1991 VIRGIN 261 823 CD
France
Netherlands
2010 VIRGIN TPAK 787 491-2 CD
UK / International
1991 VENTURE VE 906 LP
1991 VENTURE CDVE 906 CD
1991 VENTURE TCVGD 906 Cassette
US