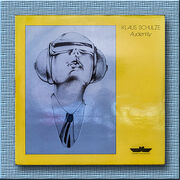 AUDENTITY
is the fifteenth solo album by
Klaus Schulze
, originally released on 1 February 1983. The title is a word play on "audio" and "identity".
Tracks
CD 1
Cellistica (24:31)
Spielglocken (21:24)
Sebastian Im Traum (28:21)
CD 2
Details
Recording Date: Autumn/winter 1982
Recording site(s): Hambühren, London (digital cut)
Producer(s): Klaus Schulze
Composer(s): Klaus Schulze
Musician(s): Klaus Schulze, Rainer Bloss (keyboards), Wolfgang Tiepold (cello), Michael Shrieve (percussion)
Notes
For the 2005 reissue of AUDENTITY the track order was changed to include a longer bonus track fitting on two CDs. The original order was:
Cellistica
Tango-Saty
Amourage
Opheylissem
Spielglocken
Sebastian im Traum
Some LP issues only used parts of the full album (see Releases notes).
The cover's head design is by Mediagraphics, Melbourne, Australia. Additional photos by Claus Cordes. A Japanese LP version used a completely different cover artwork (white with colored drawings).
In 2005 AUDENTITY was the eleventh Schulze album reissued by REVISTED RECORDS as part of a series of Schulze album reissues. The long bonus track Gem was the prototype recording for the soundtrack to the New Zealand thriller "Next of Kin" (1983). Although Gem is one continuous track, you can skip to any of the subtitles separately.
Some music from AUDENTITY was used in:
the German ballet "Rattenfalle" (2006 and 2008) at Kammerspiel Würzburg
Equipment
G.D.S. computer synthesizer, electronics, EEH computer, Simmons persussion, cello, glockenspiel
Releases
Germany
1983 INNOVATIVE COMMUNICATION KS 80025-26 2LP
1983 BRAIN 817 194-2 2CD
1984 BRAIN LP 817 194-1ME 2LP
2005 SPV/REVISTED RECORDS REV 017 2CD Digipak
France
1983 POLYDOR 817194-1 2LP
UK
1983 INNOVATIVE COMMUNICATION JAMS25 LP [only Tango-Saty/Amourage/Opheylissem (side A) and Spielglocken (side B)]
1995 TKO MAGNUM THUNDERBOLT CDTB 5056 2CD
Italy
1983 BASE RECORDS KS 80025-26 2LP
Netherlands
1983 ROADRUNNER RR 9923-63 2LP
1983 ROADRUNNER 34-9923 LP [subtitled: part 1+3, only Cellistica (side A) and Spielglocken (side B)]
Japan
1984 MUSIC INTERIOR JMI-28007 LP [only Spielglocken (side A) and Tango-Saty/Amourage/Opheylissem (side B)]
US
1996 MAGNUM AMERICA MACD 507 2CD
Russia
1999 ARS NOVA AN99-0374 2CD unofficial
Community content is available under
CC-BY-SA
unless otherwise noted.