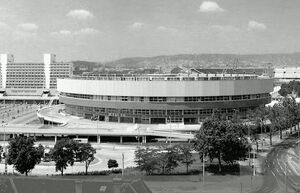 Date
: 21 October 1982
Venue: Sportcsarnok
City: Budapest
Country: Hungary
Performers: Klaus Schulze, Rainer Bloss (keys)
Recording:
Fan recordings exists (136 min)
Radio recording exists (Magyar Radio)
Info:
This concert was the only one left from a scheduled tourneé called "Chip Festival". This tourneé should besides Klaus feature Tangerine Dream, Rick Wakeman and Thomas Dolby's Classix Nouveaux and was planned to take place in Berlin, Linz, Innsbruck, Graz, Vienna, Bratislava, Ljubljana, Zagreb, Belgrad and Athens. All that was left were five gigs from TD and this concert by Klaus and Rainer.