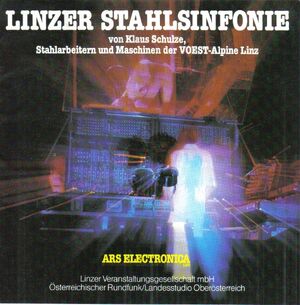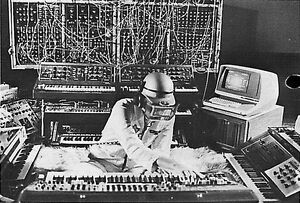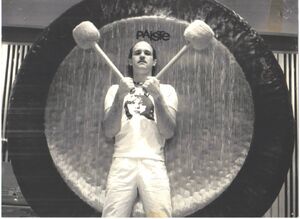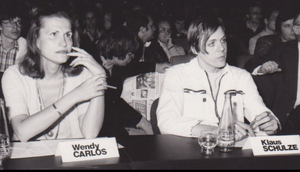 Date
: 09 September 1980
Event: Ars Electronica 1980 (an annual art festival)
Venue: Brucknerhaus
City: Linz
Country: Austria
Performers: Klaus Schulze, Thomas "Tommy" Betzler (perc.)
Recording:
DVD : Stahlsinfonie (62:22 min) [[[DIG IT (1980)]]]
Linzer Stahlsinfonie [[[JUBILEE EDITION (1997)]]]
Radio recording exists (Radio ORF)
Fan recording exists (70 min.)
Info:
Since 1979 the "Ars Electronica" is a famous annual art festival in Linz, Austria with exhibitions, discussions, events and concerts.
It was the opening concert announced as "LINZER STAHLSINFONIE from Klaus Schulze, Steelworkers and Machines of the VOEST-ALPINE steelwork". The names of the involved steelworkers were Adolf Gabriel, Ferdinand Hieslmair, Walter Obermühlner, Erich Slavik, Franz Stütz and Helmuth Wagner. Overall concept by KS, Hubert Bognermayr, Dr. Hannes Leopoldseder and Ulli A. Rützel. Video realisation by KS, Claus Cordes, Alwin Sauter, Alois Sulzer and Bruno Wirlitsch.
During the concert sounds and pictures of the steelwork were broadcast into the concert hall on a screen. Also a computer animated video was shown during the performance.
Klaus met Robert Moog and Wendy Carlos at the festival, all participating as judges for an electronic music  newcomer competition.
Community content is available under
CC-BY-SA
unless otherwise noted.