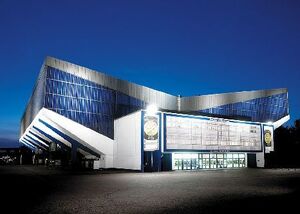 Date
: 11 October 1969
Event: Internationales Essener Pop & Blues Festival
Venue: Grugahalle
City: Essen
Country: Germany
Performers: Tangerine Dream
Recording:
some short TV clips from the festival with different bands performing
Info:
Look at the poster, look at the names - Pink Floyd, Yes, Deep Purple, Fleetwood Mac...and look at the price: 34,- DM for all 3 days...golden times.
It is not known with which line-up TD performed at the festival, it surly were Edgar and Klaus, perhaps Conrad Schnitzler or Happy Dieter, or Steve Schroyder, or Steve Jolliffe (for Steamhammer was also announced).
This was the concert Klaus exaggerated his experimentation with strange sounding tape recordings, and Edgar insisting on him to "just play drums".
Klaus also helped out Amon Düül II on drums, because their drummer was sick of LSD...
Community content is available under
CC-BY-SA
unless otherwise noted.